Why AUD Executive MBA?
We are faced with a new world. Unfamiliar. Daunting. Challenging. A world asking us to be something we're not. And the business leaders who will successfully manage this continuous transition are going to have to acknowledge that what brought them here, is not what will keep them here.
Because everything has changed. The migration of information and communication to a digital platform. The way we talk to each other. The speed at which data is evaluated has increased tenfold. The need to make far-reaching decisions, in a fraction of the time required a few years ago. The relationship between marketers and purchasers is unrecognizable now, as is the partnership between resource suppliers and manufacturers. Expectations on company and individual performance are off the scale. And they're getting even more demanding. Loyalty and trust are no longer brand or corporate building blocks. They are parameters which are audited and reset second by second. Even the way we think about the concept of money will have to be different.
A new world, with economic and social frontiers we cannot possibly imagine until they reveal themselves. And the only way you can prepare for them is to clear your mind of the default decisions experience is telling you to make.
UNLEARN
Lose the rigid structures of the past. Focus on the fluidity of tomorrow.
This is the guiding principle of the AUD Executive MBA program: To keep the rear view mirror of experience as precisely that; where you have come from, not where you are going.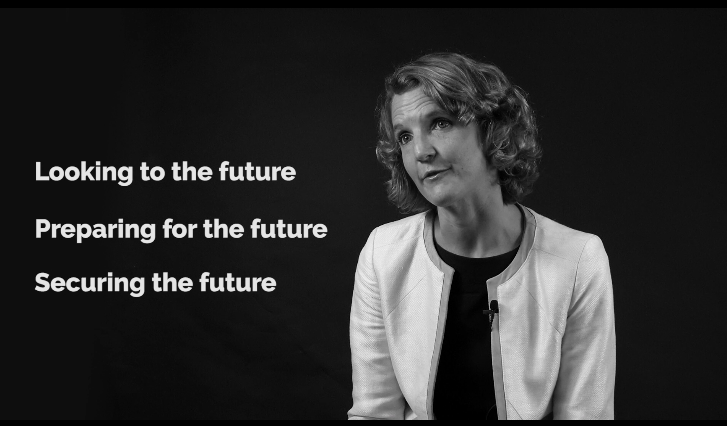 Three Pillars To Guide You Into The Future
LOOKING TO THE FUTURE
We take our participants through an immersion process, coaching them in things they did not know they even needed to know. We do this by teaching the latest trends and developments in business and exposing them to innovative ideas that challenge their perspectives and pushes their boundaries. Our participants need to open their minds to change, and embrace the learning that comes from it.
PREPARING FOR THE FUTURE
In a business environment of volatility, uncertainty, complexity and ambiguity, our participants need to possess and be able to apply the leadership skills necessary to cope in this environment. It is difficult enough to stay abreast of change, let alone lead it. Our participants need to unlock the change agent in them. They need to learn to be comfortable with being uncomfortable, to treat unforeseen challenges as irresistible rather than insurmountable, all the while conducting themselves with courage and conviction.
SECURING THE FUTURE
Social responsibility, ethics and sustainability are, rightly so, becoming increasingly non-negotiable in all business practices. Our participants need to develop an awareness of the impact of their (business) decisions on them and those around them – today, tomorrow and years from now. They need to learn how to life a live of accountability.
THE MISSION
To equip executives with the research-based knowledge and skills necessary to thrive as transformational leaders in a global business environment impacted continuously by innovation and disruptive change.
OVERVIEW
The EMBA Program is a two-year, 42 credit hours program aimed at working professionals. EMBA participants take courses throughout the year during the Fall and Spring semesters and the Summer I term.
FORMAT
EMBA classes take place approximately once per month during extended weekends (Thursday, Friday, Saturday). The program is designed to ensure minimal time out of employment, making the best use of your time on campus. In-between campus modules, you will work with your teams on team projects. Our faculty members are always available to support and guide you, whether during in-class hours or in-between classes.
CURRICULUM
YEAR I - FALL
Leading in Organizations
We'll teach to know what your employees are thinking, how they're thinking and why they're thinking the way they are. Then we'll study overall corporate cultures and look around the world to see how different HR practices are improving the performance of companies overall.
Economics for Management
The motivation and incentivizing of people has never been set in stone – it's an amorphous formula based on infrastructure, demand, competition – any number of unique factors. We'll study rationales, analytics and metrics to give you the knowledge and confidence to convert theory to practice.
Statistics for Business Decision Making
We'll immerse you in current and past management science techniques and show you what has worked and what hasn't – forecasting, decisions taken under risk, regression analysis and the like. But the most value you'll get from this is course is an ability to act under pressure borne from uncertainty.
YEAR I - SPRING
Accounting for Managers
When you analyze enough financial statements, you start being able to recognize patterns. And when you recognize patterns, the numbers on any page start having actual, practical meaning. Bottom line? How to accurately measure performance and make the necessary management calls grounded in ratio analysis, financial planning, budgeting and ROI.
Corporate Governance and Corporate Social Responsibility
This is so vital to tomorrow's leadership, it bears repeating. It is imperative you have a grounding in the theories of CSR including financial, organizational and legal issues as well as the practicalities of applying them into the structures to the relevant stakeholders. Few aspects of leadership tomorrow are as important as governance and CSR.
Operations and Supply Chain Management
An inefficient supply chain harms a company's profitability and is vulnerable to competitive activity. So let's get this very basic of operations fixed in your head. We'll look at supply strategies, project management, process analysis and management, inventory control, supply chain design and, of course, logistics.
YEAR I - SUMMER
Global Business Study
If money makes the world go round, let's find out how. We'll study economic and cultural landscapes in various regions around the world. Then we'll drop you into an immersion with a foreign company operating in Dubai. The nett result? Your knowledge base of global markets and societies will gift you a competitive edge.
YEAR II - FALL
Marketing Management
By the time you get to the end of this sentence, marketing practices will have changed. It's evolving that fast. But the fundamentals won't have changed. So we're going to look at marketing ideas and how to apply them in a marketplace. We'll study how marketers have successfully reacted to shifts in consumer behavior and consumption. We'll use real life scenarios to apply theories and evaluate their practicality.
Managerial Finance
The basic principles of finance may seem like a mundane subject to some, but a sound knowledge of them is what truly set captains of industry apart from the rest. In this course we'll study tools and techniques to understand and practice valuation, and how value is actually determined in capital markets. Talk about competitive advantage!
Entrepreneurship and Innovation
This course is designed to change your mind about entrepreneurship and innovation from risk-taking to risk-averting. Business design and redesign are accomplished through an understanding of empathic creativity, the powers of observation and the creation of operational frameworks. We'll 'observe' all of these facets in depth.
YEAR II - SPRING
Business and Data Analytics
Insight is not a skill per se. It's simpler than that. It's a habit. Given the right practices and tools, the ability to analyze data and covert it into insights will come pretty naturally. And by studying the evolving techniques in data analysis, your ability to offer insights will enhance your stature and impact as a leader.
Business Strategy
A competitive advantage. That's why we're all here, isn't it? We're going to do a deep dive into case studies and in-field experiences (as much to know what not to do), study a number of analytic tools that guide strategic decisions and take the leap between theory and practice. Strategy is the prime turnkey of business. After this course, you'll own the key.
Management Simulation
You ever seen a pilot walk out of a simulator? The sweat on the brow is a giveaway that, for a while, that pilot felt immersed in a real situation. This is what this course is all about. An intensive, experiential business simulation experience that pulls together all the ideas and practices you've learnt throughout the EMBA curriculum. You will not doubt that you're in the arena, making tough decisions, playing a high stakes game of real management issues. You will sweat. But it will be, simply, a fantastic experience.
YEAR II - SUMMER
Global Consumer Behavior
There are companies who pride themselves on what people think. And then there are the market leaders who understand how they think. It's the latter that interests us; so we're going to examine the strategic decisions around new products, repositioning existing products and why it's important to understand market reactions. Why people are motivated to do what they do. That's this course, in a nutshell.
Competition in Global Markets
Think local, act global. This slogan for an international bank may well sum up the success stories of every company that has expanded successfully and aggressively into global markets. We get under the skin of their practices and the way various markets have reacted to their presence. A must if your goals lie beyond the horizon.
International Trade
Often referred to as the grease which lubricates the wheels of the global economy, international trade is a subject worthy of its own course. Every day, we are subjected to international trade issues that effect our lives in some way. To understand why this is requires knowledge of matters such as global economic growth, trade balance and world markets. These we examine in depth to arm you with the ability to recognize the consequences of media-reported disputes in your marketplace.
FINDING YOUR VOICE
ARE YOU READY TO UNLEARN?
As part of your EMBA program, you will be able to identify skills you never knew you had, polish them and then unleash them in every aspect of your career. This is Unlearn at its most personal. Because you will surprise yourself. You would need to dig a little deeper into character and personality – your strengths and weaknesses and your blind spots. Through this style of introspection, you will emerge as an irresistible leader.
Through a series of skills sessions we will teach you about the impact you have on others and through integrated career coaching you will recognize who you are and who you want to be.
ADMISSIONS
WHO ARE WE LOOKING FOR?
We are looking for forward-thinking participants who are dynamic and motivated to embrace the future and enact innovation with us. Our participants are high-potential, open-minded change makers that contribute to the EMBA experience both inside and outside of the classroom.
ADMISSION REQUIREMENTS
The minimum requirements to be eligible for the EMBA program are:
A university bachelors degree.
Six years of post-graduate work experience.
English proficiency (demonstrated by an English proficiency test score)
Executive Assessment (EA) – optional*
*The Executive Assessment (EA) is accepted by AUD.
The EA is administered by the Graduate Management Admissions Council (GMAC) and is specifically designed to evaluate the business school readiness of seasoned professionals.
If you hold an Executive Assessment score, feel free to submit this as supplement to your application.
HOW DO YOU APPLY?
Applicants for the Executive MBA Program need to submit an online application form, including two application essays and a professional reference. After an initial evaluation, an in-person admissions interview is required. Please contact us for more details.
TUITION FEES
The fee for the Executive MBA program is AED 225,000.*
This includes tuition, teaching materials and meals when on campus.
* An initial non-refundable deposit of AED 11,000 is required to secure your place on the program.
FINANCIAL AID
We have various financial aid options available for this program. To learn more about these options and how it applies to your personal situation, please contact us.
CONTACT
Email: admissions@aud.edu
Phone: +971 4 399 9000
FACULTY