What are the options?
Exchange Programs - The most popular and convenient programs with some of the most prestigious international universities.
Study Abroad Programs - Chose a destination within AUD's partner network!
AUD Global Seminar - Join an AUD professor for a short-term and meaningful learning program abroad!
International Dual Degree Program - International Progression Path in Business & Management. Spend your senior year at Manchester Metropolitan University (MMU) and receive two Bachelor's degrees, one from AUD and one from MMU. Optional 1-year Master's degree also available at MMU. Find out more
Apply for Exchange / Study abroad in 6 steps: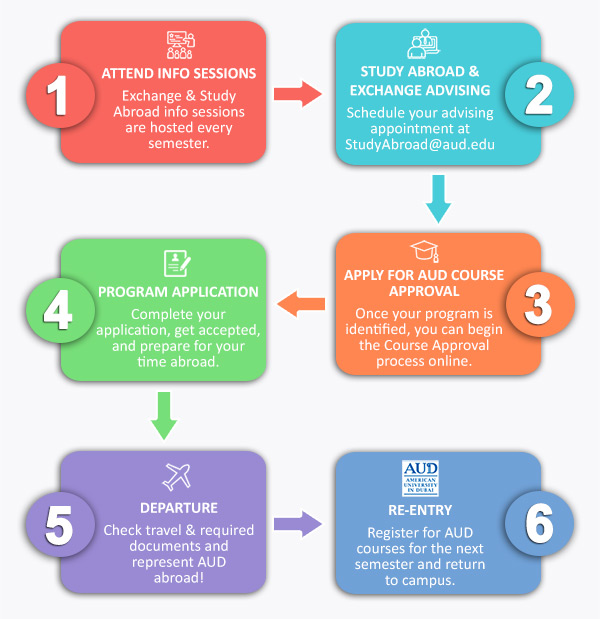 Need Help? Schedule Advising Appointments
Explore and get inspired
Why study abroad? Where should I go? What are my goals? Identify your desired outcomes as you explore your options!
Know how it works!
Understand the application process and get tips on how to prepare for learning and life abroad.
It's all about planning!
Prepare in advance. You need at least 6 months. This is the key to a successful and meaningful experience. Think about Timing, Academic Fit and Cost,... etc.
Contact StudyAbroad@aud.edu to schedule your advising appointment to learn more about AUD Exchange / Study Abroad programs.
Exchange and Study Abroad Info Session
Exchange and Study Abroad Info Sessions are hosted every semester on-campus or online.
Info Session for Outgoing Spring 2021 Programs:
Tuesday, September 22nd, 2020 at 7:00 pm
Wednesday, October 7th, 2020 at 7:00 pm