Dean's Message
Education liberates the mind: based on this adage, the School of Arts and Sciences (SoAS) at AUD provides a liberal arts curriculum encompassing general education in languages, science, mathematics, the humanities and social sciences. We believe that a well-rounded college education seeped in the foundations of the Arts and Sciences offers our students the necessary tools to excel inside and outside the classroom. While cultivating their critical thinking and analytical skills, our core curriculum instills in our students a passion for life-long learning. Through a variety of courses covering English, Communications, Cultural Studies, Humanities, Math, Science, and Social Sciences, SoAS effectively prepares students for graduate school programs and lays the foundations for them as they become future leaders and problem solvers.
In addition to the liberal arts core curriculum, SoAS offers two popular programs: a Bachelor of Arts in International Studies and a Bachelor of Arts in Psychology. Our location in the Middle East has also enabled us to offer a Certificate in Middle Eastern Studies, which draws students from near and far to learn about the history, cultures, economics and politics of the Middle East and North Africa. In an effort to enable students across the university to get a taste of some of the expertise we have on campus, SoAS offers minors in a series of disciplines, from Health Studies and History to Literature and Mathematics.
The intellectual rigor of our faculty and students is on display in the many extracurricular clubs and events we organize. SoAS is proud to host the AUD Model United Nations as well as the International Studies Association. Our students have also created chapters or student clubs in association with different United Nations entities, such as the UN Global Compact Student Club and the UNHCR Chapter. Our faculty's creativity and research productivity can be viewed in some of the many events organized on campus, including lectures, workshops and our in-house literary journal Indelible.
I invite you to browse through our website, to learn about our programs, and to join us in an educational experience that sharpens your global awareness as you study with a globally diverse faculty and student body – an unforgettable learning experience in a unique setting.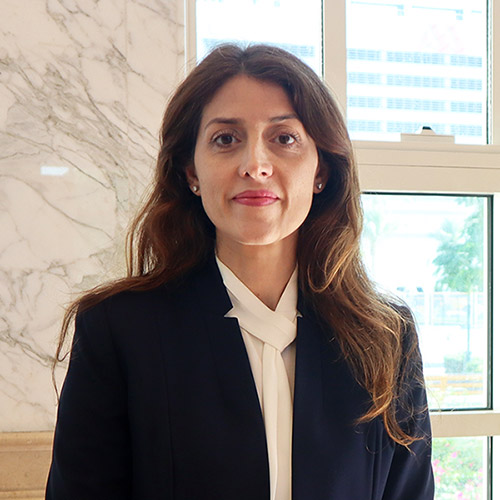 Dean of the School of Arts and Sciences and Associate Professor of Political Science
Elham Seyedsayamdost
Biography
Programs
Departments