WELCOME NOTE
from the President
"
Welcome to this window on the American University in Dubai (AUD).
Located in one of the world's most diverse, cosmopolitan and economically bustling cities, AUD – while zealously safeguarding the consolidated values of American higher education – is deeply imbued with the pioneering spirit of the United Arab Emirates.
Founded in 1995 as the first private institution of higher learning in Dubai, AUD is one of the most recognized universities in the UAE – with Ministry of Education licensure and US accreditation (SACSCOC) for the institution, as well as the most prominent US-based professional accreditations for its academic programs: ABET (Engineering), AACSB (Business), NAAB (Architecture), NASAD (Visual Communication and Interior Design), CIDA (Interior Design) and ACEJMC (Communications and Information Studies). This, coupled with AUD's very high graduates' employability rate (90%+)*, explains why each year, hundreds of students of diverse nationalities and school systems choose AUD with confidence to be their home. Driven by the search for academic excellence and the need to prepare students personally and professionally, AUD ensures that its graduates possess the hard and soft skills required for success in an ever-changing and increasingly demanding world. "Life-long learning" and "life-ready" are among the phrases most often heard on the AUD campus.
I trust that visitors to our website will find reasons for why AUD is so often the university of choice. It's a place where students transform, laying the foundation for endeavor and aspiration. The university's Enrollment and Admissions staff would be pleased to help visitors discover AUD and to answer any questions they may have.
My very best regards,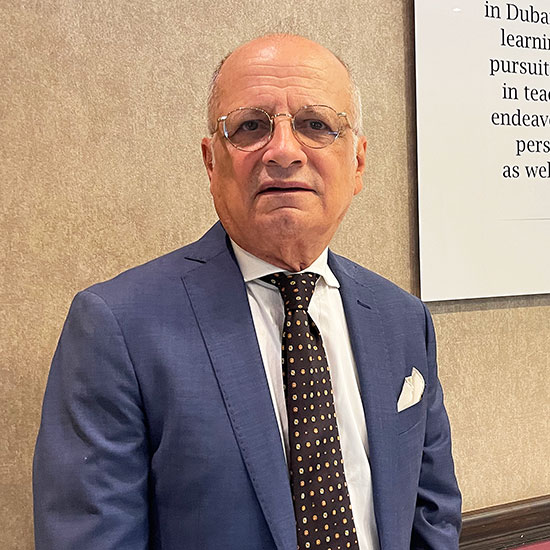 Interim President
Dr. Lance de Masi
Biography
*AUD is ranked #1 in Dubai (Employment Outcomes) in the QS 2024 World University Rankings.
---