The AUD Student Housing Division provides residential students with a safe and well-maintained living/learning environment that supports individual progress and provides quality services and programming.
We maintain four residential, non-smoking student buildings, two for men, two for women, accommodating a total of 520 residents, across a collection of six-storey and four-storey halls.
Rooms are double occupancy and equipped with a private bathroom and WiFi, with each hall featuring a laundry room, study area, TV lounge, and fully equipped kitchen and dining room.
Located in the northwest corner of the AUD campus, the halls are a 2-5 minute walk to the academic buildings, library, computer labs, cafeteria, small grocery shop and the sports facilities that include basketball, tennis and volleyball courts, as well as a soccer field and a swimming pool.
For details on fees & check-in/out dates, refer to our Housing Handbook.
For the Student Housing Application Form click here.
For various Student Housing Forms click here.

HALLS OF RESIDENCE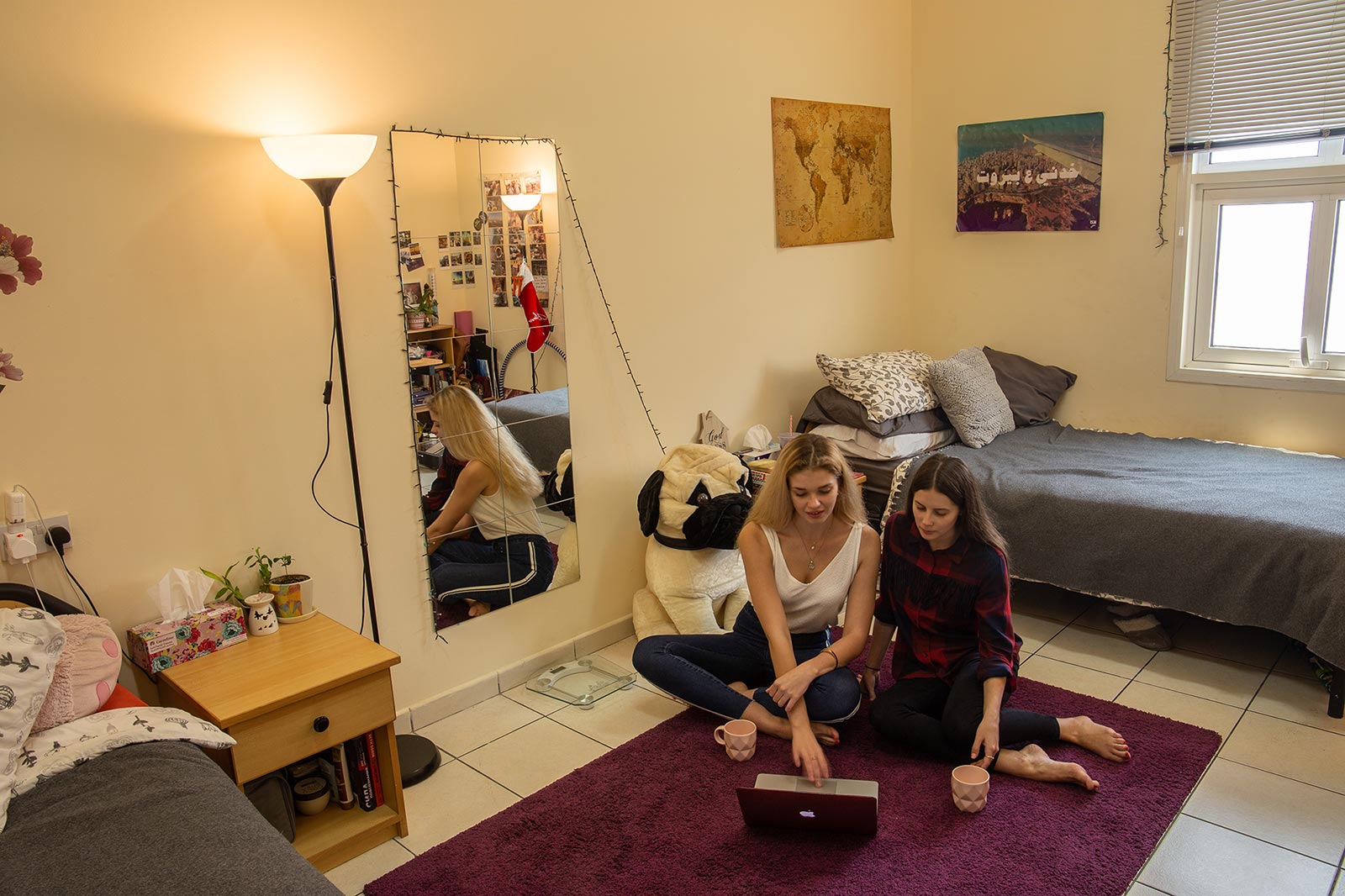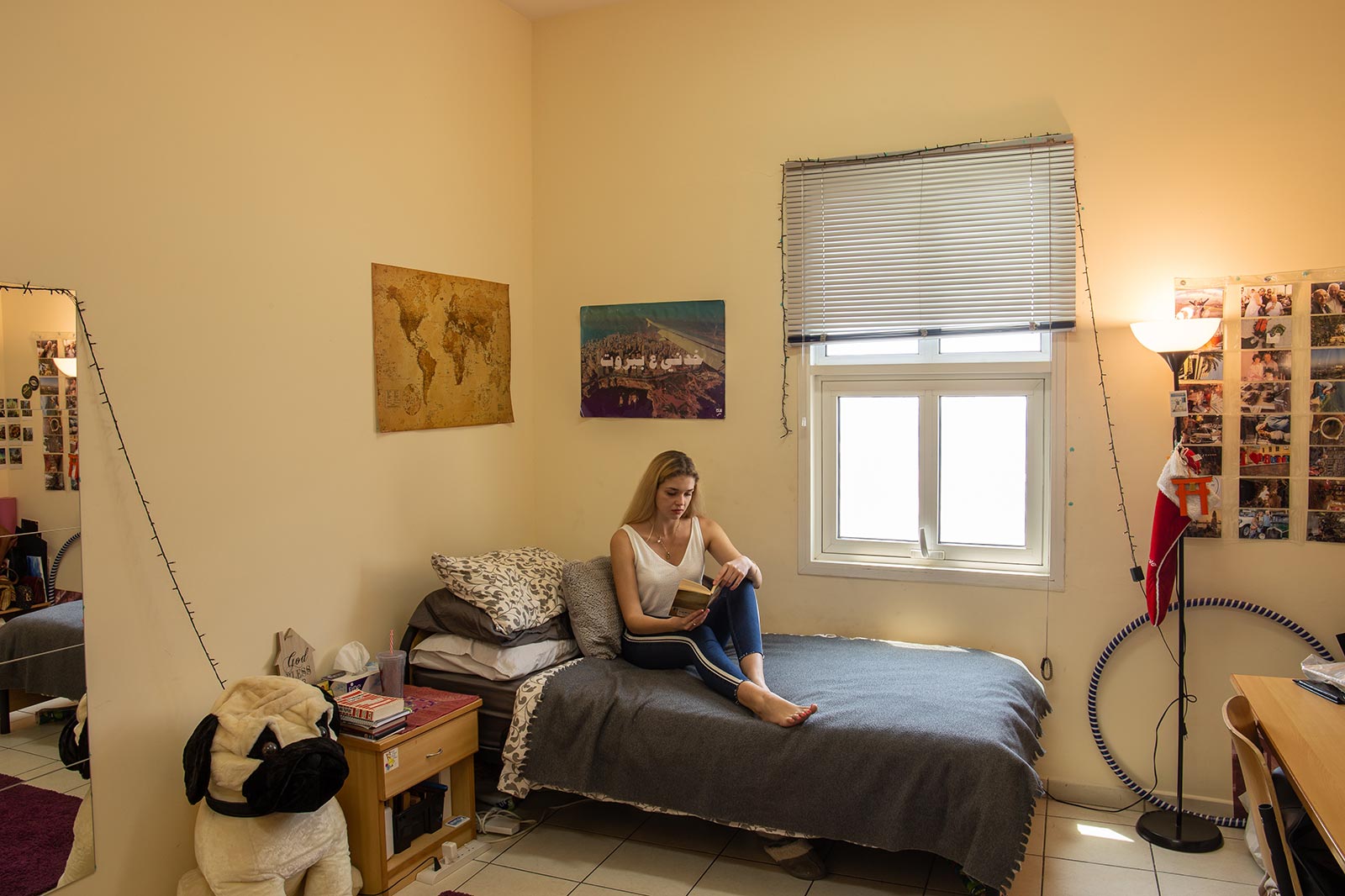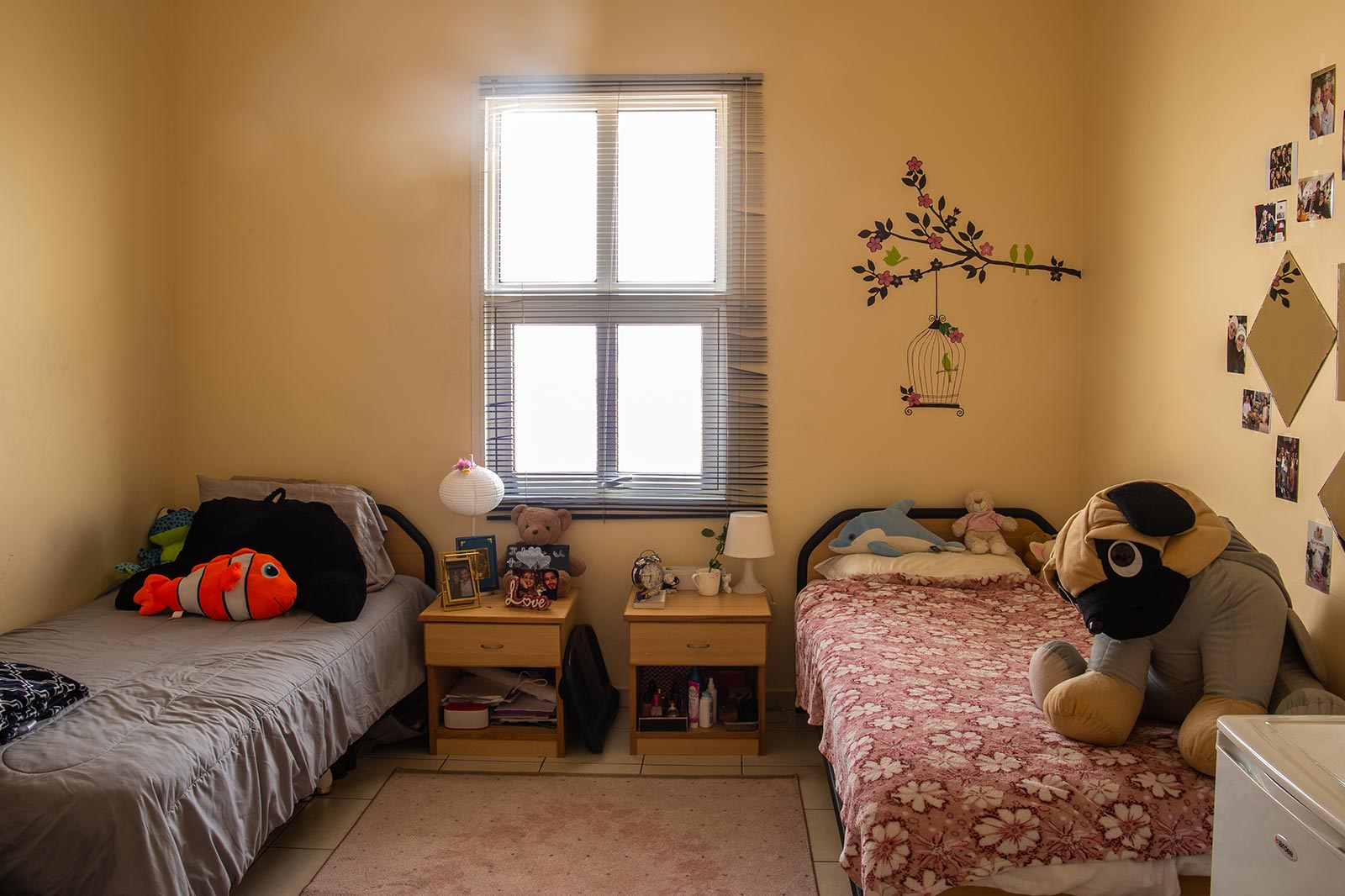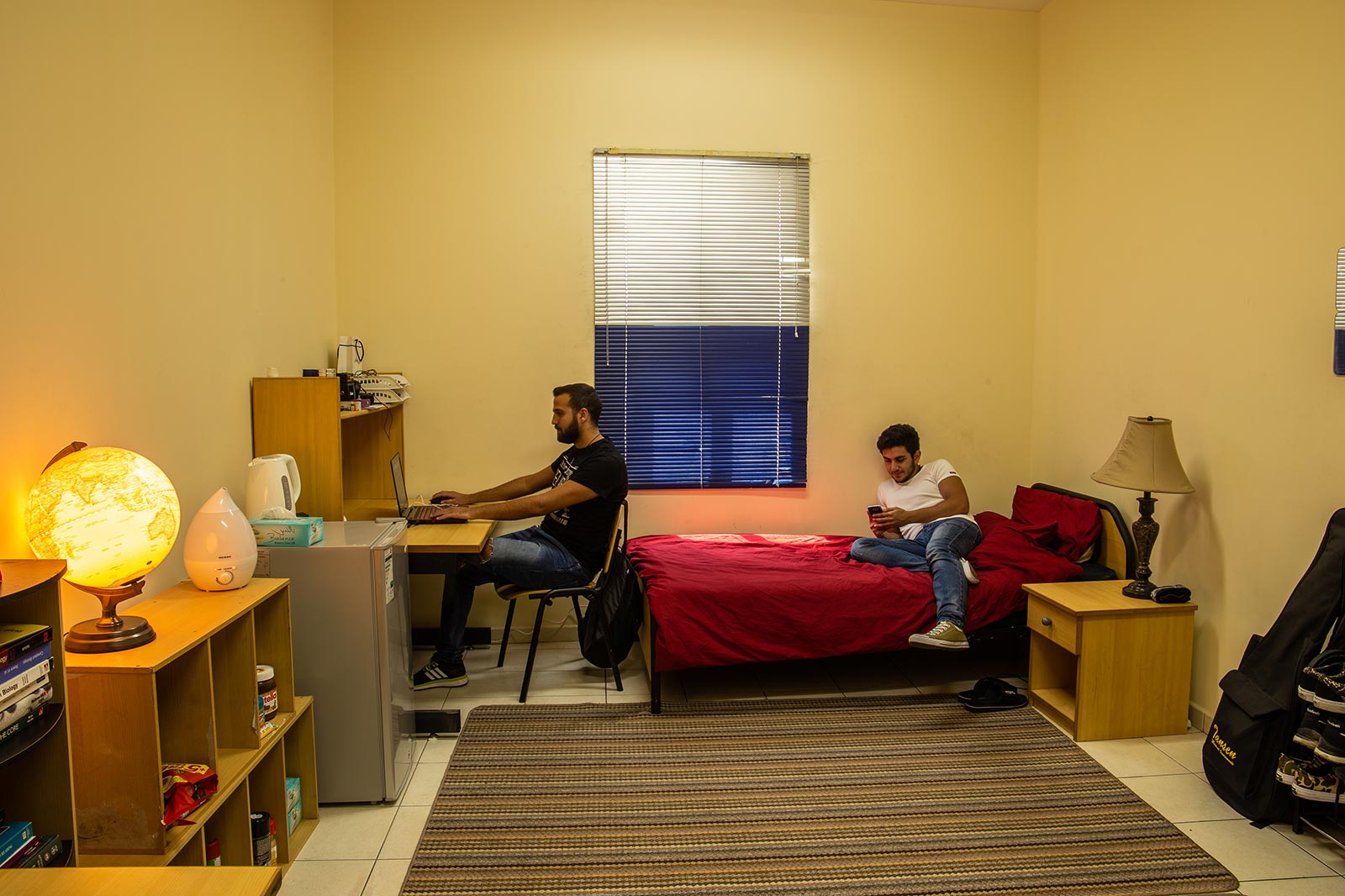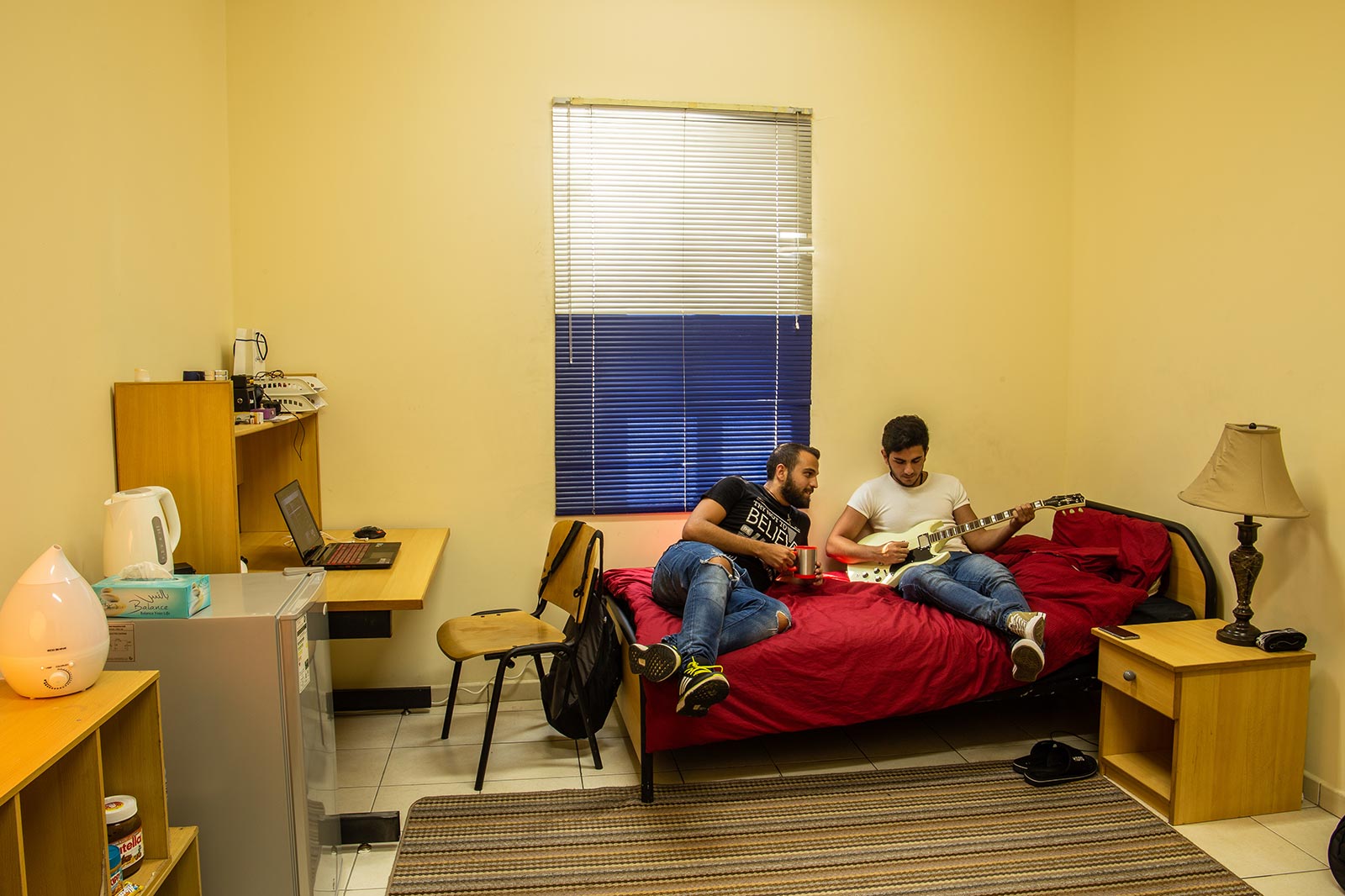 FAQ
What is the cost of rent in halls?

For Fall and Spring semesters, a shared space is 8500AED and a single space is 12,500AED each. For Summer I and Summer II sessions each is 5700AED for shared occupancy, and 8500AED for single occupancy.

Can I see a room before I apply?

Yes, we provide tours in the residence halls for new applicants.

Will I be guaranteed a room in halls?

We operate on a first-come-first-served when assigning bed spaces. In order to book a space, you should pay the housing deposit before the deadline of the semester that you are applying for.

When will I be allocated a room in halls?

During the check-in dates of the semester that you are applying for.

How/where do I pay my rent?

You may pay online, or through a bank transfer. You may also visit our Finance Office if you wish to pay by check, card or cash.

Can I pay monthly?

We operate on a semester basis. The housing fees should be paid in full before you check-in.

May I stay in my room during vacations and breaks?

A student can stay free of charge in his or her room between terms provided he or she has paid for the next term. The only exception is for the December break. Only students whose homes are outside the UAE can stay in the housing during this period.

Can I use my deposit towards my final semester's rent?

The Housing deposit of 2500AED is used towards the housing fees. The security deposit of 1000AED is not used towards the fees.

What items should I bring with me?

List of items to bring and not to bring to the residence halls:



| | |
| --- | --- |
| Bring to your room | Do not bring |
| Bedding | Bedding |
| Single bed sheets (2m x 1m) | Mattress (provided) |
| Pillows | Kitchen |
| Pillow cases | Toasters |
| Blankets | Electric pots |
| Personal Care | Ovens |
| Towels | Microwaves |
| Toiletries | Coffeemaker |
| Hair dryer | Hot plates |
| Electric razor | Room Décor |
| Laundry | Halogen lamps |
| Laundry detergent | Open coil units |
| Iron & ironing board | Space heaters |
| Hangers | Candles |
| Kitchen | Incense burners |
| Mini-refrigerators | Electronics |
| Bowls, plates, spoons, forks, knives, & other eating utensils | Extension cord |
| Room Décor | Multi-plugs without surge protectors |
| Floor rugs | Furniture |
| Portable mirrors | Sofa |
| Desk lamp/light bulbs | Desk |
| Pictures | Chair |
Metro station near the AUD campus